ChurchPost.com » FLOODCare Update: Moving Day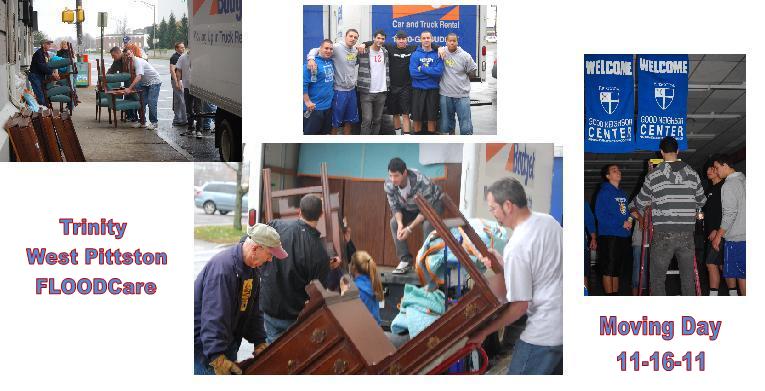 Dear Bakery Friends,
This Friday, Saturday and Sunday, Trinity West Pittston will distribute donated furniture to our neighbors affected by the early September flooding.  We haven't handed out one piece of furniture yet, but already this project has reached far beyond our parish.

When we found out the furniture needed to be moved from Wilkes-Barre to West Pittston during the day in the middle of the week, we knew we needed help beyond what we could muster at Trinity.  When moving day arrived on Wednesday, November 16, we had all the help we needed in the form of volunteers not only from our parish but from throughout the community
Tim Sheffler is a member of Trinity Lutheran Church in Scranton, and his church received our appeal for help from a Bakery notice forwarded by Church of the Epiphany in Clarks Summit.  When Tim heard about our project, he arranged for vacation time from his job and brought his dad, George, to help for the day.  They even brought a trailer to assist with the move.  Our thanks to Tim and George, and also to Trinity Lutheran and Church of the Epiphany for passing along the word.
Thanks also go to two local business owners, Chris Schwartz and Rick Schmid, who heard about the project through Father John and Sandy Major and took time off from their businesses to help.  Chris took on the responsibility of driving one of the trucks and Rick, who owns a gym, helped with unloading and also recruited some members of his gym to help with the distribution over the weekend.
And the biggest boost of the day came from student athletes from Misericordia University.  It turns out that college students, who pile all their belongings into a vehicle four times a year for the trips back and forth to college, are masters at quick and efficient loading.   The first student group of four young men and one young woman jumped into the task and with the assistance of the rest of the volunteers, had three 16-foot rental trucks crammed full of 42 desk/dressers, and at least 30 each chairs, small tables and lamps in less than an hour and a half. 
The second group of six football players arrived at 11:30 and were so helpful and quick that by the time lunch arrived just after noon, all three trucks were unloaded and the distribution site was set up and ready to go.  The football players even climbed ladders to hang welcome banners from the ceiling.
My project co-coordinator, Lisa Nardone, and I are so grateful to all these volunteers and the members of Trinity who came to help that day, as well as to the maintenance staff at Genetti's who assisted with moving the furniture to the main floor for loading.  We started at about 8:30 in the morning and all three trucks were returned to the rental office by 2:30 that afternoon.   Professional movers who were consulted about this project said it would take up to 18 hours and cost more than $2,500 to hire someone to do what these volunteers did in under six hours at just a fraction of that cost for truck rental and food for the volunteers, so you can understand how thrilled we were and what a blessing it was to have this move completed so quickly, easily and inexpensively.
Our distribution site in the former CVS store at the corner of Boston and Wyoming Avenues in West Pittston will be open on Friday and Saturday from 10 a.m. to 5 p.m. and on Sunday from 1 p.m. to 4 p.m.  We welcome any and all volunteers to come and join us that day in offering assistance, hospitality and support to our neighbors who are still struggling to recover from the flood.  If you have questions or need directions, please email me at janineungvarsky@msn.com .  And whether you are able to come this weekend or not, please join in praying that our efforts to help will ease the burden and warm the hearts of our brothers and sisters who were affected by the flood.
Peace...
Janine Ungvarsky
Trinity West Pittston
FLOODCare Coordinator