ChurchPost.com » FLOODCare Update: Furniture Distribution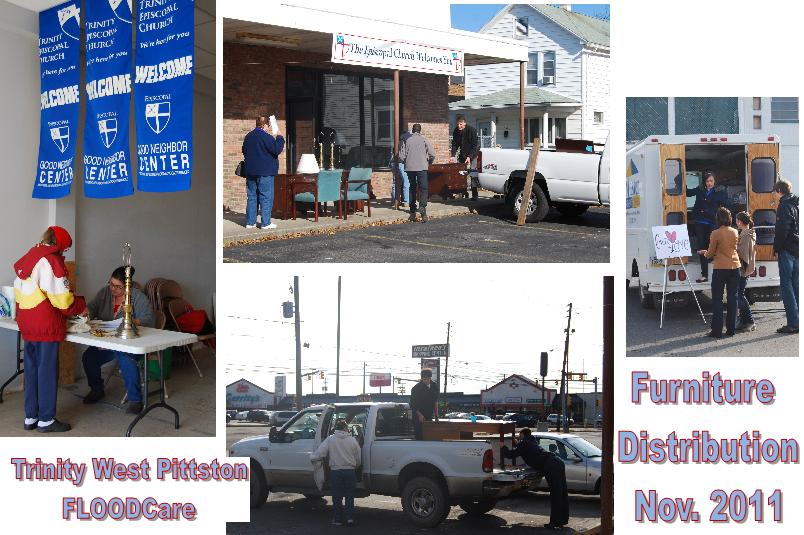 Dear Bakery Friends,
What an amazing and humbling experience the parishioners of Trinity West Pittston had this weekend as we distributed donated furniture, clothing, bedding and other items to our neighbors affected by the September flooding. It was amazing because the items disappeared faster than we could ever have imagined, and it was humbling because we saw not only how fortunate we are compared to people who live just a few streets away from Trinity but how grateful they were for even something as simple as a used lamp.
In just the first two hours after distribution started on Friday, more than 40 households came through and made their selections from the desk-dresser units, chairs, tables and lamps that were donated by Genetti's Hotel & Convention Center. The stories they told us as we helped them make their selections really drove home how much our neighbors have lost and how great the need still is in our area.
One woman spoke of how happy she was to finally have the electricity restored to her home after more than two months, only to discover as darkness fell that first evening that she didn't have a working lamp. She couldn't decide between a floor lamp and a table lamp and literally clapped her hands with joy when she was told she could have one of each—complete with shades and light bulbs and ready to light up her home.
And there was the family that got excited when they saw the tables we had available. These were just small tables, no more than three feet square. This family was so happy because the apartment they are renting while their home is repaired has a tiny kitchen, and this table was the perfect size. They left talking about how they would finally have a table to gather around for their Thanksgiving dinner.
By mid-afternoon on the first day of what we thought would be a three-day distribution, our entire inventory of more than 200 pieces of furniture was down to a handful of lamps and one desk-dresser, and people were still coming. But even when we had to tell them we didn't have the furniture they came for, our neighbors told us over and over that they were thankful that we thought of them and organized the distribution, and how glad they were that some others had gotten some of the things they needed.
Around 2:30 on Friday, our efforts were given a boost when Fran and Bobbie from St. John's in Hamlin arrived with a small recreational vehicle full of clothing and bedding, along with a monetary donation. Now we had a different kind of help to offer, and we heard more stories as people came through and made their selections from the many items so generously donated by the St. John's community.
One woman wearing a short sleeved shirt and hooded sweatshirt on a chilly day told us that all her winter clothes were stored in the basement and lost in the flood. She happily carried out a trash bag bulging with warm sweaters and sweatshirts, and left wearing a new-to-her winter coat. And an elderly gentleman who told us he has been sleeping on the second floor of his flooded home with no power or heat left with an armload of blankets and a comforter to keep him warm at night.
Even though the furniture was gone on Friday, we kept the site staffed and offered the items donated by St. John's. We continued handing out the gift cards many of you so graciously provided, and we really focused on ministry, spending a lot of time in conversation with those who stopped by. We listened to their stories of the things they lost and the challenges they are facing, we gave them an opportunity to express their frustrations and fears and shed a few tears and we offered words of encouragement and prayer. We also started a list of names and contact information and the things that are still needed, and we'll use that to continue doing something we've been doing since before the waters receded: matching people who have things to donate with others in need.
We had one more source of help on Sunday as Kathy Coslett and her family brought a mobile clothing closet to our site with new and gently used clothing, freshly dry-cleaned comforters and blankets and salon beauty products. The Cosletts live outside the flood area but heard about our efforts and wanted to help.
When all was said and done, we had distributed about 200 pieces of furniture to 66 households, along with gift cards and many items of clothing and household goods. We didn't count people as they came through the door, but we have more than 125 names of people who have either received help or are on a waiting list for future help. We've been able to identify the areas of greatest need to address in future events.
And there will be future events. We started the weekend unsure of the need and concerned we might have to store furniture at the end of the weekend. We ended the project with the sobering realization that the need is far greater than we thought, but also with the knowledge that even the smallest things we do for our brothers and sisters mean a great deal.
Our next project will be one of those "small things." Knowing that many of our neighbors lost their Christmas trees and decorations in the flood, and that in many cases, replacing these will have to take a back seat to other more pressing needs, we will give away fresh Christmas trees and wreathes on December 3. While Christmas can certainly be celebrated without these decorations and a tree is a small thing in comparison to the many needs of those who were flooded, it is our hope that these symbols of the season will help our neighbors enter into the joy of Christmas despite their troubles, and serve as another reminder that we care about them and are here for them.
On behalf of all of us at Trinity, I'd like to thank everyone who helped us this weekend, especially: Sue Ellen Andreas from Jim Thorpe, who arrived in the midst of the largest crowds on Friday morning and dove right in to help; St. John's Hamlin for their timely delivery of clothing and bedding, and all who have provided gift cards. This weekend showed us the immensity of the task still before us, and we are grateful to have your support as we continue to minister to our neighbors.
Peace…
Janine Ungvarsky
FLOODCare Coordinator
Trinity West Pittston